Quality American Foundry Services Since 1905
Since 1905, Coffeyville, Kansas, has been home to one of the leading foundries in the country. Originally called Coffeyville Foundry Company, Acme Foundry and Machine Company was purchased and renamed by E.L. Graham and a group of investors in 1914. The original plant consisted of one foundry building and one machine shop with a total of 8,200 square feet of work space. The original foundry was operated by 40 employees.

In the beginning, Acme Foundry made and repaired parts for brick and tile manufacturers. A steady stream of business was created by more than 60 brick and tile plants located within a 50-mile radius of Coffeyville in the early 1900's.
Once oil was discovered south of Coffeyville, Acme began repairing and manufacturing machinery for oil companies. Becoming more diversified in the 1940's, Acme Foundry started making light poles to modernize Coffeyville's downtown lighting. And during World War II, Acme did its part for the war effort by making cast iron practice bombs.
Becoming One of America's Leading Foundries
By the 1960's, Acme had grown to include more than 110,000 square feet of work space and more than 160 employees. These expansions were due mostly to the addition of the molding department and improvements to the laboratory and inspection departments.
Acme's growth continued into the 1980's with the completion of a $6 million modernization program made possible by Industrial Revenue Bonds from the City of Coffeyville. This program included the installation of the Osborn line which automated the process of making gray iron castings.
Family Owned & Operated – Manufactured in America
The 1980's also brought a change of ownership. In 1986, 50 percent of the existing Acme shares were purchased by ESOP (Employee Stock Ownership Program) from Aileen Russell, John Brooks and Bob Graham. The following year, long-time Acme employee, Dick Tatman, became president. Dick first came to Acme Foundry in 1959 as foundry manager. Over the years, Dick would bring many Tatman family members to work at Acme Foundry. There are currently eight Tatmans working or serving on the board of directors at Acme Foundry.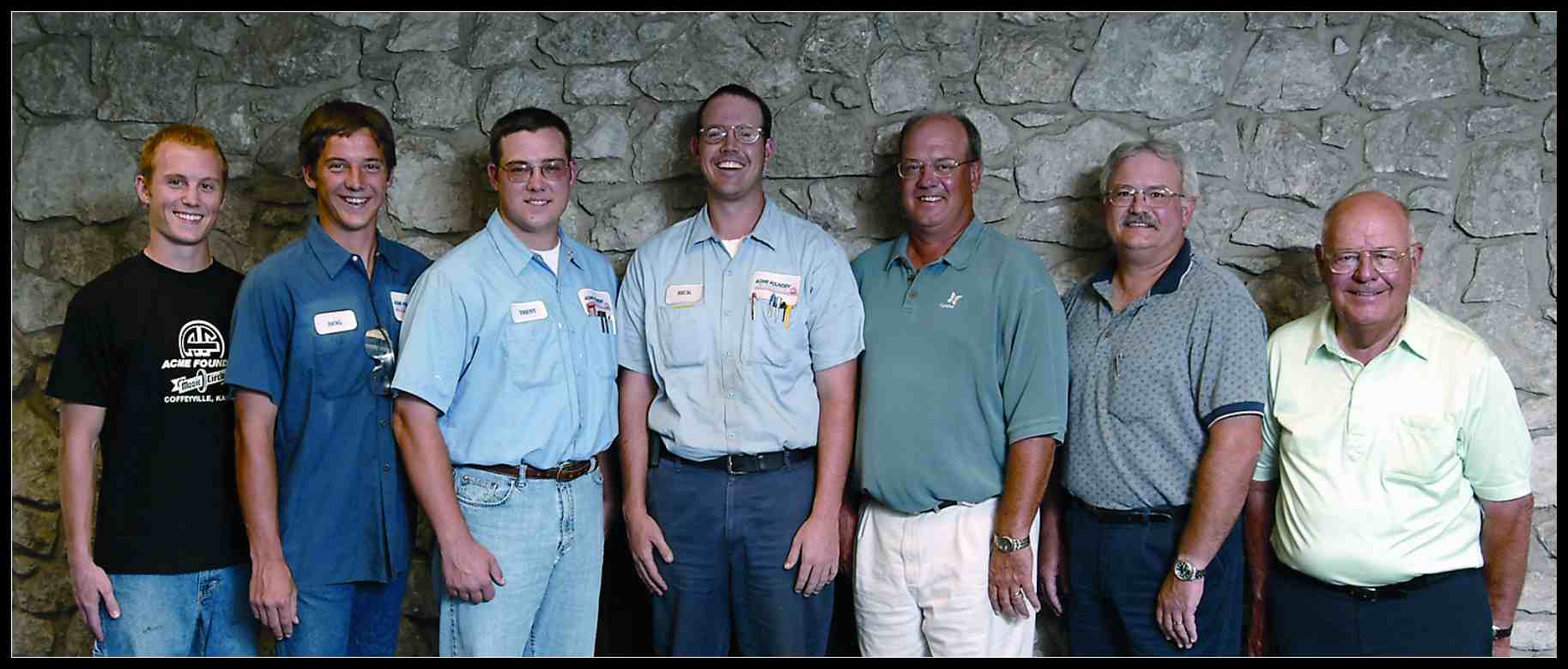 In 1988, the Magic Circle Machine Shop, founded in 1951 by Jim and Ruth Miller, merged with Acme giving the foundry complete machining and tooling capabilities. It was also in this year that the remaining shares of Graham stock were purchased by the Tatman family.
By 1990, Acme Foundry had expanded its product line to include: machine tools, valve bodies, pump housings, oil field pumping units, road construction machinery parts, laundry machinery equipment and more.
Capable of Producing the Industry's Most Complex Gray Iron Castings
In the last decade, Acme Foundry has experienced significant increases in production requiring multiple expansions of facilities, purchase of new equipment and hiring of additional employees. In addition to previous product lines, Acme now produces castings for diesel engines, hydraulic valves, industrial valves, petroleum production valves, gear boxes, lawn mower parts and energy machinery. These new products have created the need for more employees and additional space. The Acme workforce has grown to include more than 300 employees, and the plant now includes more than 300,000 square feet.
One thing that hasn't changed over the years is Acme's commitment to customers. Acme Foundry continues to be dedicated to prompt service and quality parts, just as the founders were back in 1914.