Magic Circle Machining Division
Magic Circle Mfg. is the machining division of Acme Foundry Inc. Our state-of-the-art CNC facility provides precision machining services to our customers who require their castings to be completely machined prior to shipment.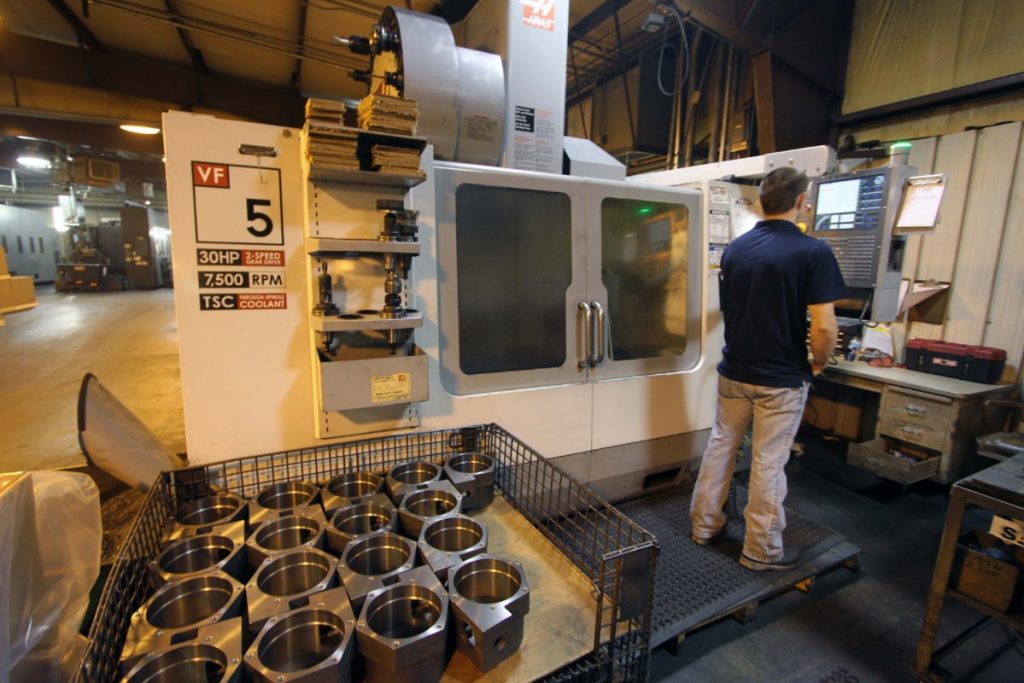 Our cutting-edge CNC machining capabilities enable us to manufacture complete turnkey castings and components ready for installation or production.
Streamlined CNC Machining Services
Magic Circle is a self-sufficient manufacturing facility capable of machining precision products that are compliant with our customers' closest tolerance dimensional requirements.
We manufacture a diverse range of products for numerous commercial industries throughout the United States, Mexico and China. Some of the industries and applications we specialize in include hydraulics, oil field and gas, earth-moving equipment and air brake systems.
Our state-of-the-art tool room is equipped with a variety of engine lathes, Bridgeport mills, grinders and jig bores. Our cutting-edge equipment combined with our highly skilled CNC machinists allow us to support precision manufacturing for some of the industry's most advanced applications. Our streamlined tool room is where we design and build all of the work holding fixtures used throughout our facility, be it hydraulic or manual.
Unlike many manufacturing shops, we have the capability to make our own custom fixturing for a range of industrial manufacturing and assembly applications. This allows us to reduce the lead times for product delivery to our customers by as much as 80% while providing truly optimized industrial fixture solutions.
Outfitted with a Range of Cutting-Edge CNC Equipment
Magic Circle presently operates 16 CNC machine tools that perform a variety of milling, turning, boring, reaming and threading operations.
1 Leblond Makino MC86
Horizontal Machining Center
Cat 50/60 Tool ATC, 15,000 RPM spindle, Full 4th Axis Table
1 Mori Seiki MH50 Horizontal Machining Center
Cat 50/60 Tool ATC 6,000 RPM Spindle, 4th Axis Rotary Indexer
2 Haas VF 5/50 Vertical Machining Center
Cat 50/30 Tool ATC, 10,000 RPM Spindle, 4th Axis Indexer
1 Mori Seiki SH 633 Horizontal Machining Center
Cat 50/90 Tool ATC, 10,000 RPM Spindle, 4th Axis Rotary Indexer
3 Toyoda FH 550S Horizontal FMS (Flexible Manufacturing System)
Cat 50/120 Tool ATC, 10,000 RPM Spindle, 4th Axis Rotary Indexer
3 Mori Seiki SH 630 Horizontal FMS (Flexible Manufacturing System)
Cat 50/120 Tool ATC, 10,000 RPM Spindle, 4th Axis Rotary Indexer
CNC Lathe Equipment
2 Giddings and Lewis 15U Numerilathe
1 Mori Seiki SL-35MC Turning Center
2 Wasino LV-24M Vertical Lathes
Product Testing, Inspection & Quality Control Equipment
D.E.A. Coordinate Measuring Machine–Range X=40"; Y=18"; Z=14"
Monochromatic Light And Optical Flats
---
Contact Magic Circle Manufacturing for All Your Custom CNC Machining Needs
1209 Buckeye Rd.
Coffeyville, Ks 67337
Phone: 620 251 4920
Fax: 620 251 8157
Dick Yates
General Manager
Phone: 620 251 4920
Fax: 620 251 8157
dyates@acmefoundry.net
Mike Thompson
Director of Manufacturing
Phone: 620 251 4920
Fax: 620 251 8157
mthompson@acmefoundry.net